There are 3 images tagged with "pine needles".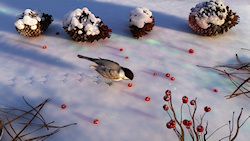 The early bird gets the berry! I love winter landscapes, expecially with a little red in them. And I'm always trying to get snow and crystals to sparkle and refract light. And I also love chickadees :-) So this was a natural combination!
February 15, 2020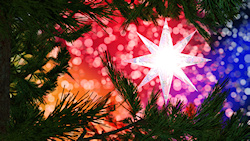 I started out with a snowflake ornament, and intended this picture to celebrate the first day of winter, but I decided the star looked better. I think it was still appropriate, to celebrate the Light of the world on the longest night of the year. And that year it was also the new moon, so it was the darkest night as well!
"Silent Night! Holy Night!
All is calm, all is bright
'Round yon virgin mother and Child,
Holy infant so tender and mild.
Sleep in heavenly peace,
sleep in heavenly peace."
March 14, 2016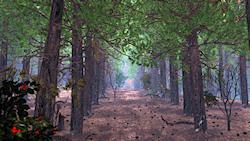 I did this piece for the E-On Software 3D Environment Competition 2012. It was inspired by a visit to my grandfather's timber farm. I wanted to capture the cool blue mistiness of the woods on a cold morning.
January 11, 2016