There are 2 images tagged with "hypnotizing".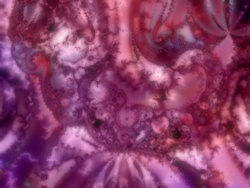 I had a bad accident while doing some tie-dying …
Actually just the result of playing around with one Apophysis and two XaoS fractals. It's probably better suited as a desktop background than a stand-alone piece of art. Except you may never find your icons again!
November 19, 2015
This was a photograph I took of my cat, Dusky, looking hyperactive as usual. Selective coloring is a technique that can be overused, but it seemed appropriate for this picture with those glowing eyes!
August 4, 2015