There are 2 images tagged with "dark green".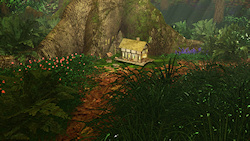 I had the idea and made a picture like this back in 2011 when I was fairly new to Vue software and 3D landscapes in general. Since I've gotten more experience I've been thinking for some time of redoing it. I love miniatures! Here's the earlier version.
October 7, 2018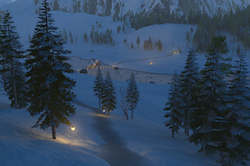 You are expected, just follow the lights.
Here's a winter/fantasy scene in the "cwm" in the mountains that I've used for several other pictures. This time it's winter, and the solitary cottage dweller is expecting company.
Cwm Solitude
Cwm Waterfall
Cwm Autumn Frost
March 15, 2018