There are 2 images tagged with "warm".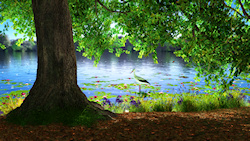 This is the kind of still water I'd like to rest beside. I got the idea swinging in my hammock and looking at a red maple. For some reason both the red maples in my yard hang down in a "weeping" shape. But I don't have a pond in my yard for them to hang over - that part came from my imagination.
July 13, 2019
I decided to do a summer version of my Winter Leaves work.
June 21, 2019