There are 3 images tagged with "saplings".
I decided to do a summer version of my Winter Leaves work.
June 21, 2019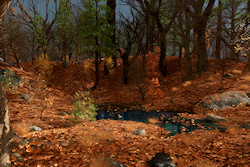 This is the kind of place I like to walk in the fall and winter, with little secluded hollows and pools covered with fallen leaves and the warm autumn afternoon sun.
November 13, 2018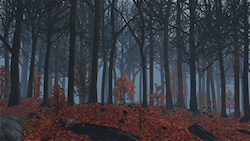 I first had the idea for this on a family trip around Thanksgiving of 2016. I was watching the landscape go by and noticed how the smaller trees still had their leaves, and how the dead leaves were almost pink. It may not be as beautiful as spring flowers or autumn leaves or snow, but there are scenes worth looking at even in an apparently lifeless landscape. This hanging on of dead leaves through the winter is called "marcescence", and it is especially common in young oak trees like these.
This is my digital artwork, not a photograph.
February 13, 2018