There are 2 images tagged with "dream".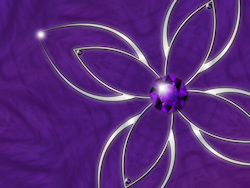 This was an exercise in color symbolism. Purple often indicates royalty and wealth. Because it's (relatively) rare in nature, and purple dyes used to be difficult to make and therefore expensive, only the wealthiest could afford to dress in purple.
"Her clothing is silk and purple.…"
- Proverbs 31:22
"And Mordecai went out from the presence of the king in royal apparel of blue and white, and with a great crown of gold, and with a garment of fine linen and purple: and the city of Shushan rejoiced and was glad."
— Esther 8:15
"There was a rich man who was clothed in purple and fine linen and who feasted sumptuously every day."
— Luke 16:19
"They put a purple robe on him, then twisted together a crown of thorns and set it on him. And they began to call out to him, 'Hail, king of the Jews!'"
— Mark 15:17-18
November 26, 2015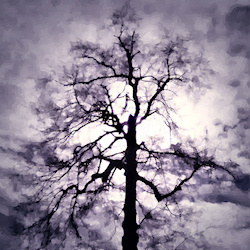 "I saw plainly on the path before me … the shadow of a large hand, with knotty joints and protuberances here and there. Especially I remarked, even in the midst of my fear, the bulbous points of the fingers. I looked hurriedly all around, but could see nothing from which such a shadow should fall. I looked, and peered, and intensified my vision, all to no purpose. I could see nothing of that kind, not even an ash-tree in the neighbourhood. Still the shadow remained; not steady, but moving to and fro, and once I saw the fingers close, and grind themselves close, like the claws of a wild animal, as if in uncontrollable longing for some anticipated prey …
"There seemed but one mode left of discovering the substance of this shadow. I went forward boldly, though with an inward shudder which I would not heed, to the spot where the shadow lay, threw myself on the ground, laid my head within the form of the hand, and turned my eyes towards the moon.
"Good heavens! what did I see? I wonder that ever I arose, and that the very shadow of the hand did not hold me where I lay until fear had frozen my brain. I saw the strangest figure; vague, shadowy, almost transparent, in the central parts, and gradually deepening in substance towards the outside, until it ended in extremities capable of casting such a shadow as fell from the hand, through the awful fingers of which I now saw the moon. The hand was uplifted in the attitude of a paw about to strike its prey."
—Phantastes, by George MacDonald
September 25, 2015