There are 2 images tagged with "daisies".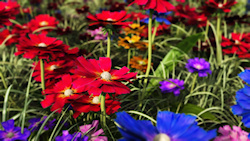 Just playing with flowers and depth of field in Vue.
December 29, 2015
Can you see them peering quizzically at you?
I like to get as much use as I can out of good fractal designs, so I used Chaos Tie-Dyed for the background and flower textures.
November 30, 2015