There are 2 images tagged with "chickadee".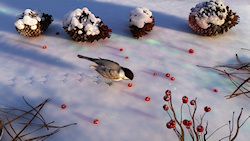 The early bird gets the berry! I love winter landscapes, expecially with a little red in them. And I'm always trying to get snow and crystals to sparkle and refract light. And I also love chickadees :-) So this was a natural combination!
February 15, 2020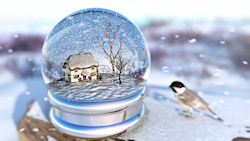 This is the final and most "traditional" of my seasonal snow globe scenes. This is what the landscape around here looked like a week ago. Today was 75° F, so this helps me remember it is still winter out there!
January 13, 2017