Phantastes: On the Sea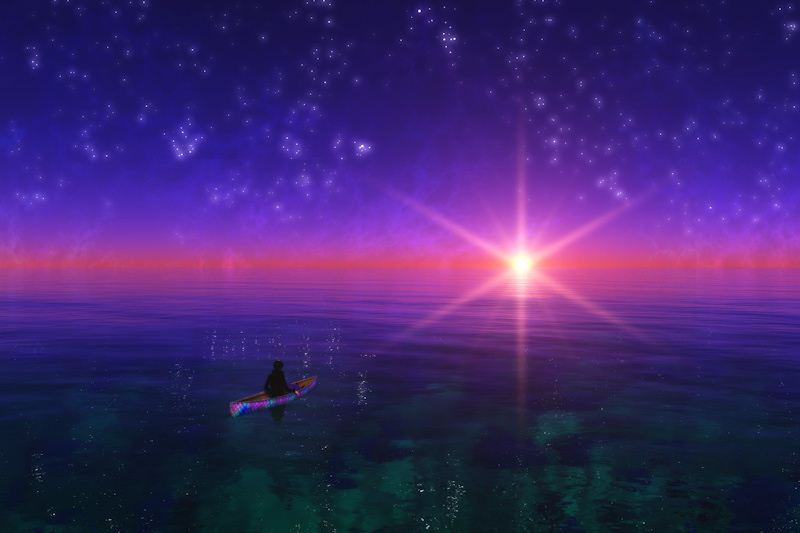 April 13, 2023
"Thus I floated, till something gently touched me. It was a little boat floating beside me. How it came there I could not tell; but it rose and sank on the waters, and kept touching me in its fall, as if with a human will to let me know that help was by me. It was a little gay-coloured boat, seemingly covered with glistering scales like those of a fish, all of brilliant rainbow hues. I scrambled into it, and lay down in the bottom, with a sense of exquisite repose. Then I drew over me a rich, heavy, purple cloth that was beside me; and, lying still, knew, by the sound of the waters, that my little bark was fleeting rapidly onwards.
"Finding, however, none of that stormy motion which the sea had manifested when I beheld it from the shore, I opened my eyes; and, looking first up, saw above me the deep violet sky of a warm southern night; and then, lifting my head, saw that I was sailing fast upon a summer sea, in the last border of a southern twilight. The aureole of the sun yet shot its longest rays above the horizon-waves, and withdrew them not. It was a perpetual twilight. The stars, great and earnest, like children's eyes, bent down lovingly towards the waters; and the reflected stars within seemed to float up, as if longing to meet their embraces. But when I looked down, a new wonder met my view. For, vaguely revealed beneath the wave, I floated above my whole Past. But so indistinct were the visions, that sometimes I thought I was sailing on a shallow sea, and that strange rocks and forests of sea-plants beguiled my eye, sufficiently to be transformed, by the magic of the phantasy, into well-known objects and regions."
— Phantastes, by George MacDonald
This is free for personal use as screen wallpaper, and is not to be redistributed. Zazzle and Redbubble are print-on-demand companies that are licensed to print my work. Please contact me if you have any questions about the use of this image.
Downloads
---
Comments