Phantastes: Lady of the Marble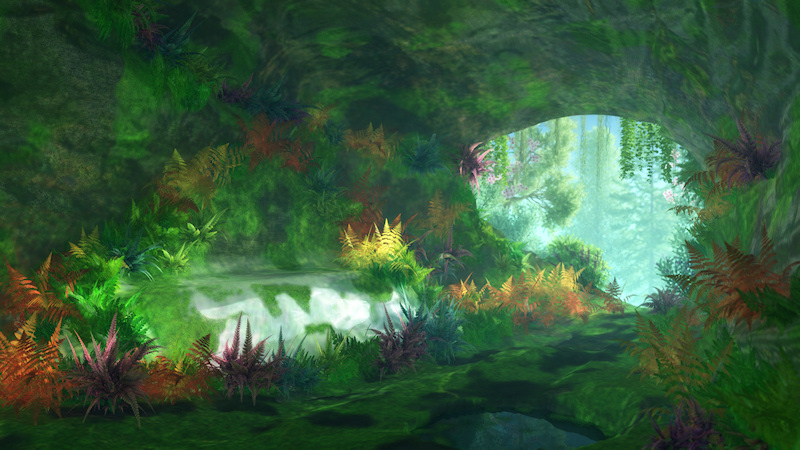 September 1, 2021
"Just where the path seemed to end, rose a great rock, quite overgrown with shrubs and creeping plants, some of them in full and splendid blossom: these almost concealed an opening in the rock, into which the path appeared to lead. I entered, thirsting for the shade which it promised. What was my delight to find a rocky cell, all the angles rounded away with rich moss, and every ledge and projection crowded with lovely ferns, the variety of whose forms, and groupings, and shades wrought in me like a poem; for such a harmony could not exist, except they all consented to some one end! A little well of the clearest water filled a mossy hollow in one corner. I drank, and felt as if I knew what the elixir of life must be; then threw myself on a mossy mound that lay like a couch along the inner end. Here I lay in a delicious reverie for some time.
"I took my knife and removed the moss from a part of the block on which I had been lying; when, to my surprise, I found it more like alabaster than ordinary marble. The ray of sunlight had now reached the spot I had cleared, and under its lustre the alabaster revealed its usual slight transparency when polished; and I observed that the transparency seemed to have a definite limit, and to end upon an opaque body like the more solid, white marble. One revelation after another produced the entrancing conviction, that under the crust of alabaster lay a dimly visible form in marble. I saw before me with sufficient plainness—though at the same time with considerable indistinctness—a block of pure alabaster enclosing the form, apparently in marble, of a reposing woman. She lay on one side, with her hand under her cheek, and her face towards me.
"'Who can tell but this cave may be the home of Marble, and this, essential Marble—that spirit of marble which, present throughout, makes it capable of being moulded into any form? Then if she should awake! But how to awake her?'"
— Phantastes, by George MacDonald
This is free for personal use as screen wallpaper, and is not to be redistributed. Zazzle and Redbubble are print-on-demand companies that are licensed to print my work. Please contact me if you have any questions about the use of this image.
Downloads
---
Comments